Steven Houghton. 
PhD Student. Funded by SoCoBio DTP and the Institute for Life Sciences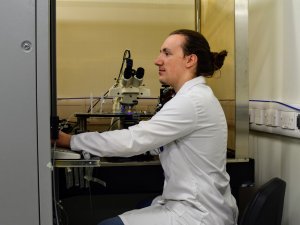 I am interested in a second isoform of the GluN2A NMDA receptor subunit—called GluN2A-S—which is found in humans and non-human primates but not in rodents such as mice. GluN2A-S is a result of alternative splicing of the GRIN2A gene and results in a protein that has a shorter C-terminal domain and a unique sequence at the C-terminus. Lacking its binding motifs for PSD-95 raises the question of whether GluN2A-S localises to the synapse or whether it instead functions as part of the NMDA receptor at extrasynaptic regions. A better understanding of how GluN2A-S functions within an NMDA receptor will provide insight into synaptic communication at excitatory glutamatergic neurons. These neurons found in brain regions such as the hippocampus, and these receptors play key roles in learning and memory. Outside of the lab I enjoy cycling, weightlifting, and spending time with my family and friends.
Hannah Warming. 
PhD Student. Funded by Kerkut Trust and Institute for Life Sciences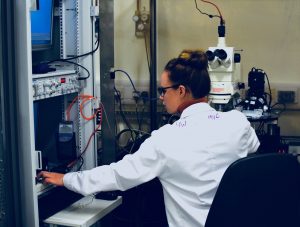 I am interested in how synaptic function is altered in haemorrhagic strokes, leading to the  death of brain cells and causing disability or contributing to fatality. I am studying the effects of blood components on neurons to investigate how these impact synaptic function, and ways we can prevent damage after a subarachnoid haemorrhage stroke. My goal is to find a therapeutic window in which the effects of a brain haemorrhage can eventually be blocked or even reversed, in the hope that eventually, stroke survivors can live disability-free. I love working with neurons in the lab and their intricate webs of connectivity. Electrophysiology can give us a wealth of knowledge about synaptic function, and the cells are beautiful to look at through a microscope! My hobbies include exploring the New Forest with my dog, baking, and anything biological including my growing collection of house plants.
Lauren McNicholas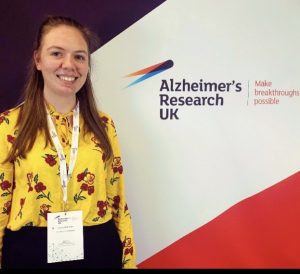 PhD Student. Funded by Alzheimer's Research UK and Kerkut Trust.
A successful therapy for Alzheimer's Disease must act to modify the disease whilst leaving endogenous mechanisms intact to ensure normal neuronal function. This includes synaptic function and plasticity. Inhibition of molecular cascades downstream of amyloid beta to prevent NMDAR-mediated excitotoxicity is an area of drug target research and clinical trials. I am interested in whether these therapies can also preserve basal mechanisms of synaptic function and plasticity. To investigate this, I will be using mouse models of Alzheimer's Disease as well as human resected brain tissue. This is an exciting area of research as it will be able to contribute to our knowledge of mechanisms for drugs in clinical trials. In addition to neuroscience research I also enjoy dancing, travelling and baking.
Previous members:

Postdoctoral:
Ksenia Kurbatskaya 
Alzheimer's Society Fellow.
Karla Salgado-Puga 
Newton International Fellow.
PhD graduates:
Sarmi Sri.  Thesis: "Emergence of synaptic and cognitive dysfunction in an inducible mouse model of Alzheimer's disease"
Chrysia-Maria Pegasiou. Thesis: "Glutamate receptor composition in ageing human brain and in mouse models of synaptic degeneration"
Alumni awards

Philippa Richardson. Awarded VHP Southampton Neuroscience Prize 2016 for "Outstanding performance in a Master research project".
Natalie Wood.  Awarded the John W Caddick Vacation Scholarship in Neuroscience 2014.